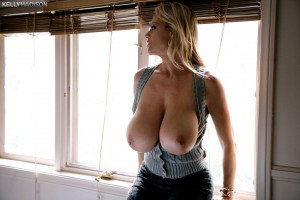 I've been trying to keep my chin up and stay positive. We are losing our programmer, my sister is getting really sick from the chemo combo she's on and in our attempts at growing our company, well it seems the growing pains are getting to us! So anyone that knows ruby on rails, please email me. Seriously, I'm taking job inquiries through my blog so email me at kelly@kellymadison.com.
We have been shooting loads of content, no pun intended, and we have been having just too much fun with our whole bear cam idea. We just did our third installment for the Bear cam series on teenfidelity.com. I don't know if I had more fun buying the costuming or actually dressing the girls in the frilly dresses. Sooo fun.
Since last I bored you with the details of my life I have gone to the mountains for a quick Valentine's vacation, driven to Vegas twice to take care of my sister, sold 18 orders of bras and panties through my website store, check out all the polaroids I did for them,


attended a baby shower and we've done 15 production shoots. Not bad for 26 days. I was supposed to leave yesterday for my sister's chemo treatment, her last one, but got tied down here at home, don't get excited, no bondage just domestic drudgery. I may go ahead and drive out early in the morning since she is feeling badly today. I would like to think that I am doing it all for her but I honestly like helping and it makes me feel good to be there for her. Since I have been home these last few days the guilt is getting to me. Plus, how can I just relax? No way, relaxing is for pussies!
Here I am relaxing and having fun in my photo/video sets, that's enough relaxing for me.