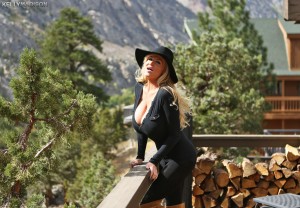 I chose this title because looking back at the last month or so a lot of problems I imagined as difficult mountains really have turned out to be nothing at all and all the daunting tasks became fun challenges that I actually enjoyed doing.
So with that said let me catch you up on things. Last I wrote I had just gotten back from my birthday trip to Rancho Santa Fe. Soon after we got home we had a major leak from the 2nd floor down to the basement. This is the 2nd time this has happened and we thought it was fixed. I called out the plumber and after putting two holes right where I just repaired it from last time, alas they found no leak. Come to find out, the last model that we shot somehow left the shower door open and had the shower head pointed outside the shower and got the floor all wet enough to soak down 2 floors! Again, thought it was a huge mountain, nah just a mole hill that cost me $500 to repair.
Ryan and I had our annual trip planned to June Lake to shoot some content for my site and get out into the great outdoors. Right before going I decided to re-do my wood deck by the pool. Well there ended up being a few hick-ups in the process and it cost more than originally planned and took much longer to do and then all of a sudden our pool began to lose inches of water a day. We ended up having a major leak in one of the pipes under the newly done deck but it wasn't construction related, just random. Everything got fixed and the mountain-like problem ended up being nothing but a busted pipe that luckily we could get to without destroying all the work done.
I have avoided a few other tragedies as well this past month. I also learned a good lesson from them all: Not all things are as they appear and if you keep level headed and positive the solutions come to you with ease.
So now I am taking on a badly needed roof repair, new windows in the master bedroom, and some long overdue landscaping. I just signed a contract for new Internet which is no easy task when your house has absolutely no cable or fiber going to it. All of it has to be brought in by telephone pole. But after long negotiations with the City and with Time Warner I refuse to pay $96,000 for coax cable to be put in the road and instead worked out a deal with AT&T for 5 times the bandwidth I was getting before for less than what I was paying and I'll have no construction costs or headaches. Wheh!
So enough with my boring life. Let's get back to what I enjoy doing most which is entertaining my fans. I did shoot a few scenes up in the mountains as well as some photo/video shoots when I was in Rancho. I also updated a shoot I did with Julia Ann that I wanted to share with the members of kellymadison.com, she was my first porn girl crush. I really love her. She is a good person inside and beautiful in every way.
Here a few photos from it all:
I have also written a few more articles for Level Magazine that I wish to share with you. I'll post them in the coming days. Take care and remember, what you focus on, you create. Focus on the problems and not the solutions and the problems just gets worse.
Namaste!