Well if you consider a short 2 hour flight to a place where you swear a piece of Orange County California just broke off and floated down the Pacific is an International destination, well then sure, I am an International traveler! Cabo is just that and a bit more. The place is beautiful but I do find that everyone speaks English and the beers cost $6 so a traditional Mexican vacation it is not. What it is is beyond safe to travel to, gorgeous weather, fun stuff to do and it is a favorite quick vacation spot for me. I haven't been able to go for several years because I couldn't leave my dog with anyone while he was ill. Trust me, there were a few times I thought I might sneak his 110 pound ass inside a suitcase and smuggle him in with me but staying home with him all those years was worth all the love I received.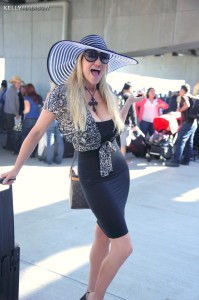 I arrived bright eyed and bushy tailed ready for an adventure. It was an adventure just trying to get there. Brandi Love was supposed to fly down with my husband and crew to film for her new site. She NEVER doesn't show but she had some issues and had to cancel last minute. I was going down the next day to merely assist with the shoots and maybe sneak in a few kellymadison.com solos. That wasn't the case now so Monday after Ryan and some of our crew were already down there waiting for someone to shoot I assisted our camera guy Matt last minute at the Federal Building to get his missing in action passport, packed up my clothes, stuck the dogs in the doggie spa and hopped on a plane ready to shoot some porn, lots of porn.
The minute we got to the airport we began shooting. Not even first class seating stopped the cameras. Then we landed and took a private SUV to the hotel and filmed 2 video intros and 1 hardcore scene in the penthouse's beautiful library. Yep, this place we own the first week of every year has it's own library covered floor to ceiling in wood and it has a fish tank.
We ordered in fish tacos and called it a night.
The next day we filmed on the beach, at poolside, up in the media room which has a pool table and out in the garden. Yes, it has it's own top story garden with trees and grass and a seating area, the place is ridiculous. The last scene was in the pool where Ryan and I splish splashed around and then we took the crew out on the town. Filming, of course.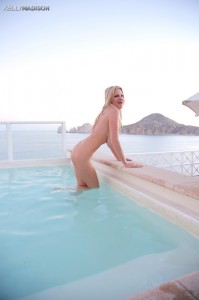 Next morning a quick "hungover and horny" style video with Ryan got put in the can and then packed up our wonderful crew and shipped them out along with all the equipment.
3 hours later and after the cleaning crew hit the place hard, Ryan's family arrived. Ryan and I were so tired we stayed in and just enjoyed the private pool, our bedroom over looking Land's End and enjoying a glass of wine.
The rest of the stay was very relaxing. His family is great but I have to admit I was READY to come home on Monday. Even though I had a doggie 24hr live cam I missed the little buggers and I had to attend to some financial matters and get back to running a business. I have been home a few short days and now I am off to Vegas for the AVN show and I'll be staying a few days to take care of my sister. Her 4th chemo treatment is Monday. I shall return Wednesday to shoot video of the lovely Sandee Westgate and her handsome man and then off to Beverly Hills.
I am so excited about the trip to Beverly Hills, you have no idea. I like surprises so I'll keep this one under wraps and tell you more about it when I get back from Vegas.
I'll get some pics while in Vegas and this week I am the model and update for Pornfidelity.com and the first kellymadison.com Cabo video and photos went up. There are two more week's worth of Cabo content so don't miss it. We worked our little Mexican behinds off for you!