Wow, I really suck. I have not even shared a single photo from AVN with you guys as of yet. OK, I'll quit being a LAZY ass and get these posted. First, let me say that going to Vegas with just the girls was the BEST idea I ever had. My girls are easy as fuck to hang with. So much fun, no drama, no having to wait on the dudes or having to behave while in Vegas. Yeah baby.
As I said, myy girls are awesome and they drove in to Vegas late Friday night while I was shooting porn. Mama's got to work. I got on a plane early Saturday morning and ran into one of the guys from We Fresh Mints on my plane that had made a rap a few years ago for our porfidelity site. If you haven't heard it, it is awesome. He said that he and his partner have a new rap for me, I'm dying to hear it. We hung out at the airport pick-up area both waiting for our rides. I loved meeting him in person.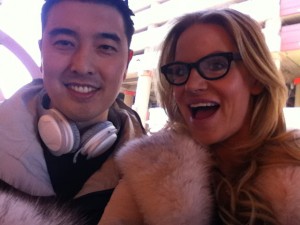 These photos are from the actual convention that we attended for just a few hours on Saturday. I didn't sign at our booth due to my ill dog but lucky me got to pay for part of our booth anyway. That's what happens when you own your own production company, whether you are there or not you get the bill, can't complain I got motorboated : )
This is the "All Girl Gang" before we got in our limo to attend the awards after my Kelly Madison Media team did their magic on me: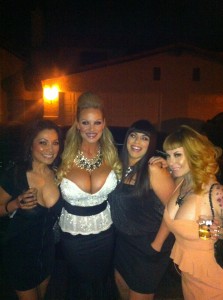 And here is a shot of me on the red carpet.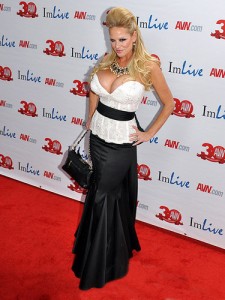 I, of course had to search out my long lost bestie Puma Swede on the red carpet and luckily ran into Fat Mike as well from NOFX and his hot as hell girlfriend (wife?) and their very charming and diminutive slave.
After the awards we had our driver hit Taco Bell where I tore my constricting corset top off while in the car and paid for our food topless. Those photos will be in my BTS section for January. You'll have to wait for those, sorry.
Then it was home the next morning at the crack-o-dawn to take care of my little guy. He's just so damn cute. Yes, that is the radiation burn that I am nursing on him and it isn't pretty. Hide your eyes you have a queasy tummy.
Whoa stomach, right? Tell me about it, this is a month after the radiation treatment ceased. Thank god I have him on pain meds.
After that nastiness, I had to give you something hopefully better to look at, this a photo from last week's episode called "Gymboobie", actually I was just trying to get in shape for AVN: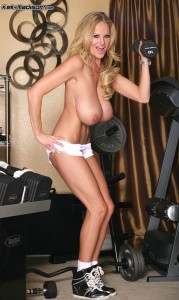 I was so excited to see my husband when I got home. It was fun with the girls but "doing the nasty" with him when I came home was a nice homecoming to say the least. Thanks for being patient on my blog updates. Sometimes I just think my life is too boring to pour it all out on the Internet. I forget that is my job. I am a child, so to speak, of the Internet. I wouldn't have the wonderful life I have without people out there that are actually interested in little 'ol me so thanks everybody. Kisses!