I have been a very naughty girl and haven't been doing any blog updates lately. Bad bad girl, I need to be tied up and spanked real hard. Now that we've gotten my punishment over, let me begin to say how wonderfully crazy my life has been.
Last I checked in I was about to go to Beverly Hills to shoot for pornfidelity.com and most importantly, attend an art event at the Beverly Hills Hotel. World renowned artist Richard Prince and his publishing house/art and book store named Fulton Ryder along with Harper's Books hosted an event at the Beverly Hills Hotel on Jan 23 to release Topless Pulp Fiction, a new publication by Fulton Ryder and little 'ol me, Kelly Madison was the guest host. This was the invite that Richard created for the event. He used an iphone image of me that Ryan had posted on Twitter while we were in Cabo. So cool.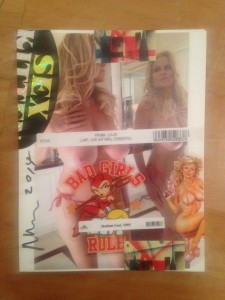 I was so honored. My dearest friend Dian Hansen was there and since the book was about reading topless, she easily got me to take off my top and do some fun posing.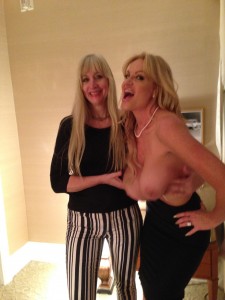 Richard couldn't attend due to weather conditions that evening so the adorable Fabiola who manages Fulton Ryder was my play thing. We did a few photos and sent them to Richard to show him what he was missing out on!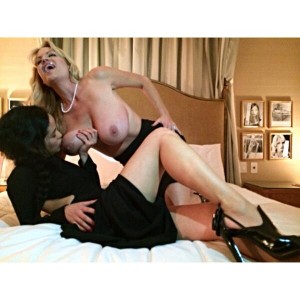 I went back the next evening and Richard introduced me to Larry Gagosian and Mario Sorrenti, and I hate to name drop but I just want to thank Richard for always being so kind and inviting me to these events. Here I am with Richard and Mario. Look at how when I'm nervous I scrunch my nose up like a rabbit. What a dork I am!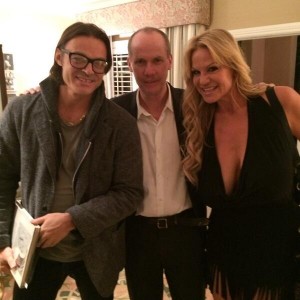 Later that evening I dined with Richard and his friends and associates at the Polo Lounge. I had a good time showing everyone at dinner what I had worked on that day.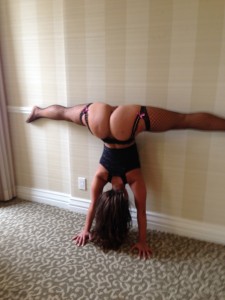 She not only did the standing splits in our hotel suite but she did cartwheels down Hollywood Blvd. If you don't believe me, check out the pornfidelity trailer
Later when I got home I discovered that there were photos of me that appeared on the Purple Magazine diary standing there topless with the photographer Tim Barber. Very cool experience.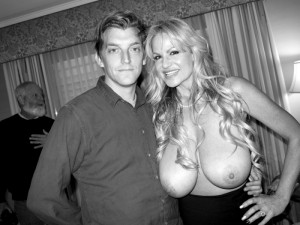 Once home, I put my shirt back on, packed my bags and headed to Vegas to help my sister. She happens to be on 2 of the harshest chemos out there, Cisplatin and Adriamycin, aka the "Red Devil,". It isn't a fun experience. She has lost her hair which isn't a big deal but her constant nausea and overall general ill health because of the drugs is really getting her down. She has recently joined a support group and I couldn't be prouder of her. Her attitude has taken a complete 180 and she is doing so much better than a few weeks ago when I went out to take care of her.
Upon my return from Vegas we began shooting for Sandee Westgate and her man Jared. I got them to do a bridal scene. Look how cute they are.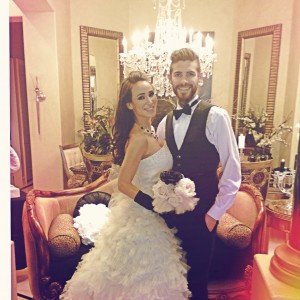 Then last week we shot 3 scenes for Brandi Love for her upcoming site with us. We had sexy naked men parading all through our company. I shot this after her scene with Bruce Venture and Ryan happened to have just gotten out of the shower as well. See, Ryan likes being topless too!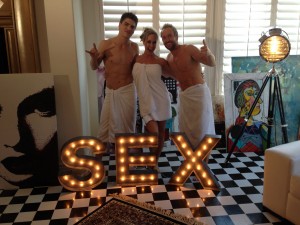 Again, sorry for my lack of communication. I've been so busy doing things that I haven't had time to do any reporting on things.