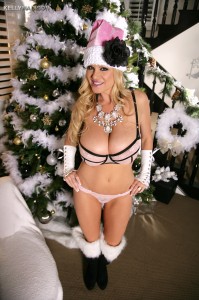 We flew in from Denver and on that day got on the Fast Track to Christmas! We went into Company Christmas party mode with confirming caterers, bar tenders, dj, specialty gluten free dessert makers, party rentals and mass decorating. I have a huge amount of party paraphernalia, not the kind you are thinking silly. I have a large amount of chaffing dishes, serving dishes, crystal, china, flatware and enough table covers and chair covers to reach from here to the moon. I love to entertain so I amass as much party ware as I can even though I rarely have enough time to indulge my inner hostess-ness. My wonderful team set up a beautiful dining area, buffet area, outdoor bar and club scene and set up 5 guest suites for those that partook in too much of the Christmas merry. We celebrated our Kelly Madison Media Event on the 21st at the work house only to awake with horrible hangovers, a shattered mirror door in one of the bathrooms, and had to attend my husband's family Christmas event early that night. Yikes, hangovers with 9 little children make for a very bad combo. Oh yeah, I'll tell you more about the shattered mirror later.
To our wonderful surprise the kids were great. We all had a good time and my husband's family is simply a dream come true. I really did luck out in the in-law deal. I count my blessings daily on that one.
We then promptly got back to filming porn and then took off a day for Christmas that only came to fruition due to online shopping and then promptly went back to work filming and starring in porn throughout the rest of the week and the weekend. Thank you baby Jesus.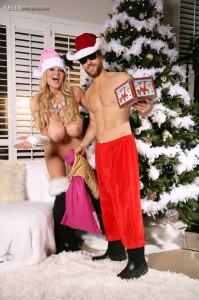 So December was full of surprises. We got a hot water heater that had gone bad and caused major water damage to Ryan's closet at work. Come to find out I love insurance and they are paying for it all, but before it could all get fixed we used to film in twice since it looked all scary and torn up, great inspiration for bondage scenes. Then we used the shattered mirror door for a Teen fidelity shoot. Our make-up artist's adorable husband had too much of the "Christmas merry" and fell into the mirrored door at the end of the company Christmas party. No need to replace it immediately because it made for a great prop in a video. You see, we like to turn our lemons into lemonade around here. We had some flat tires, lots of illness that practically took the company down, and a general craziness that always occurs around the holidays.
Now we are approaching the New Year's holiday and I go into that great night with great exuberance. You see, the number 13 has always been lucky for me but this 2013 year with all of it's luck, also presented me with some great and ongoing challenges. I need 2014 to be a gentler, kinder year. But then again, with the recent expansion of our company and the plans to grow even larger throughout the new year, god help me.