I'm ashamed. I just glanced at the date I did my last blog and quite honestly, I suck. I have so much to tell you that I fear I will bore you with all that has been going on. It has been a while since we have been this busy here at Kelly Madison Media. We have been shooting our butts off creating tons of content for kellymadison.com, shooting another production for Brazzers, and as always, shooting for pornfidelity.com plus now we will be updating teenfidelity.com every week instead of every other week so that adds a few more production days on to the month. I've also been working on my new Members section that is well overdue by about 5 years as well as completing our first hardcore/bondage inspired DVD entitled "Get My Belt" of which this is the 3rd installment, please view the free trailer. To prove to you how hard I've been working, check out my beautiful nails last Friday. I had to take my acrylics off because my nails kept breaking while putting up wood paneling in one of our sets. I think sanding, staining, and antiquing a table and set of chairs is what really did a doozy on my poor hands.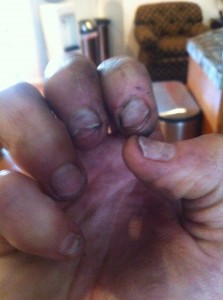 My husband also bought a rusty old troft and assured me it was water tight. I poured the water in and out it came all over my newly rustic table. I then used that foam stuff from Home Depot used in construction that fills up holes without wearing gloves. Not pretty but I am quite proud of my new Old West set with all our newly acquired antique tools and such. Kind of want to use that hammer on Ryan!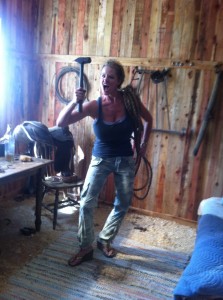 On a prettier note, we rented an old car and shot up in LA and in Orange 2 weeks ago. We did 2 different scenes and Ryan and I both fell in love with the old Cadillac, and so did the doggies. After returning home we went for a joy ride with the kids. I think I see an old Cadillac in my future very soon…
I've had 3 updates posted on my site since last I checked in as well as a behind the scenes update from all the activity in the month of February. Here's a sample of what's gone up. "Titty Trecking" "Spa-gasm" and "February BTS". Can you tell which is which? : )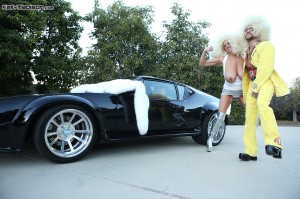 To speak the obvious, I'm dog tired. In fact, the whole fam is tired. These are a few photos I snapped with my phone this past Sunday morning.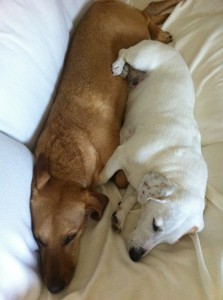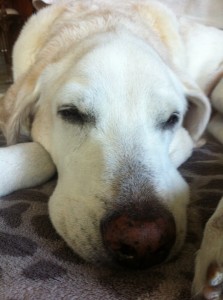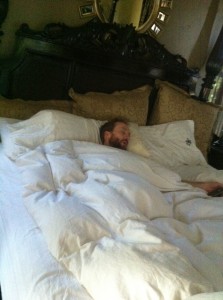 We all got up at 7AM but everyone went back to sleep by 10:30AM. We didn't rest for long, it was off to the vet for mani/pedis and anal glands and then off to the park and then gluten free grocery shopping for the week.