Life has been very interesting in July. It began with my dog having surgery and then complications arose. I spent all 4th of July by his side only to take him in that night to be be re-opened and sewed back up again. He is really mad at me and now with the antibiotics he doesn't like to eat his food or any other food I try to give him, look how pissed he is with his ears back…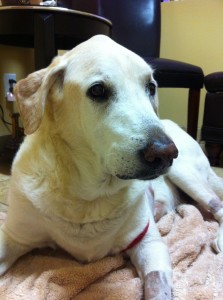 Then there are all the schedule changes that have had to be made in order for me to take care of the big guy. Shoots got cancelled and re-scheduled and every plan I tried to make got moved around. My sisters came out for my niece's son's Birthday which had to be cancelled due to him getting foot and mouth disease, yuck. Then they stayed with me all weekend and I entertained them which threw me off as well.
Good news is everything is working out really well with the new girl, Carissa. She does unbelievably good hair plus has great style and is such a hard worker and a nice person and very pretty. Did I mention she was pretty? We have been shopping and putting together some stuff for some cool vintage pinup style shoots not only for my site but for pornfidelity too. Can't wait to show you guys.
I am also very much enjoying my girl Cathy back at work after a year away. It is nice to have help again with the houses, the pets and the sets and stuff. Not easy cleaning 2 houses with a combination of 9,000 square feet and over 2 acres by yourself! We have been cleaning like crazy not to mention washing 3 dog blankets a day, every day. God damn high maintenance dog!
We also hired a new guy to assist with editing. It is always fun having new people around. I really like our new group dynamics we have here at the company.
Speaking of the company, I am going up to LA today to meet with my accountant. Fun fun fun. Actually, it is fun and I really adore my accountant, David Beider. He puts up with all my craziness and keep my corporation in check.
Oh yeah, the birthday for the previously ill one year old was re-scheduled and we had a blast this past Saturday. The sisters came back out from Vegas and everyone was healthy and happy. Everyone I know or related to had a birthday in June and July. I am sort of birthdayed out. Oh shit, the new guy's birthday is the end of the month. Geez, it is never going to end. Seriously, 10 birthdays in row? Come on…
I shot a scene for my site on Sunday and I have lots of shoots to do this week to catch up. The dog is better, all the birthdays are over, well, almost over and it is time to get these titties back to work.