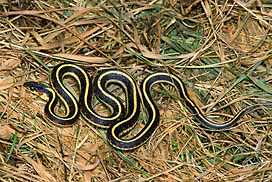 I just saw a cute little garter snake that looks just like the one in the photo (but mine appeared to have a full belly) slither across my driveway. I want to keep him, he's pretty cute.
I have spent all day being a travel agent making arrangements for Las Vegas for the AVN show as well as planning my company Christmas party. You know, if this porn thing doesn't work out I have a future as travel agent 🙂
I booked flights, hotels, you name it. This month has been pretty crazy in the travel department. Last Christmas for our company party we did a spinning wheel with different vacations you could land on. Well, every singe one of them changed the vacation they won, changed the flights, changed the dates and all. I had to rebook shit, pay out more money and basically it was just a big pain in the ass. One employee got back from Hawaii last week, btw, her original trip was for Cancun, don't ask. Another employee just got home late last night from New York almost too exhausted to work and claims she spent all her money while there. One guy is down in Cabo in the middle of a hurricane and my office manager is flying down to Cabo (her trip was for Cozumel) tomorrow and she will either be just in time for the hurricane to pass or be there right in the eye of the beast. A few months ago Tim went to New Orleans, his original trip was for Cabo (guess he had a premonition about the hurricane) and next month I have our programmer, Jeff, going to Maui. Cross your fingers that nothing goes wrong with his trip. Like I said, I'll never do that again. I am keeping it simple this year. Yeah, that's what I always say. Now my neck hurts from sitting at the computer all day. My ears keep popping and my left foot is going numb. I guess it is time to get up and stretch my ass. Pilates sounds good or at least a nice long dog walk.