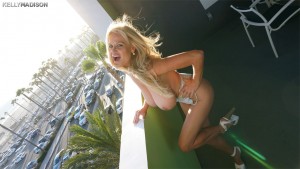 Happy Summer Everyone! Wow is it hot where I live. Over 100 degrees is just too much for me, can we say "Boob Sweat" for days?!!! So I took a quick work/vaca down to Huntington Beach with Ryan and the doggies and got away from the blistering hot weather. It was great. We were right across from the beach and our view was awesome, plus it wasn't too far from Dog Beach and restaurants and shopping were just an elevator down. I really enjoy shooting on location. I don't have the crew I have when I shoot at home but it just feels more intimate and real when it is just Ryan and myself. So I did a few shoots, got crushed by a big ass wave and I still have water in my left ear, and the highlight was taking the dogs for long walks for sure.
I graduated high school from Huntington Beach High over 30 years ago and some parts of Huntington are so different now. It is so much nicer than it was but there are parts that still have that old beach town charm and kind of grimey. I like it all.
So since my full time preoccupation is trying to stay OUT of the heat and indoors with my AC, thoroughly utilizing my new solar panels, I have been doing a bunch of online tests. I guess I'm trying to figure myself out since I will be turning 49 next month. I found some that are really cool. For instance,
To find out what Chinese Element you are can help you with balancing your energy, Tao of Wellness has the best one:
To find out what body type and what foods you should eat and avoid I highly recommend Deepak Chopra's test:
To find out your "raw" personality like I did and discover you are a "Tenacious Bulldog" check out:
So if you are going to waste time on the Internet after checking out my new Summer updates, check out these tests, hey it is always fun to learn about yourself and you might come away with a different view on yourself and how to relate to others!