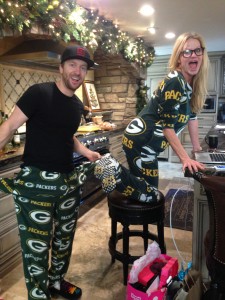 So with this holiday I've learned a few things. Things aren't always controllable, I can't be perfect no matter how good my intentions are, people don't do what you think they will do, magic can still happen no matter how negative your outlook may be and nothing ever ever, ever turns out the exact way you imagine. And I have been surprised at how much better the outcome may be despite my intentions.
Today my sister Cheryl is in a rehab hospital. I'm hanging out locally today and driving out to Vegas early in the morning and visiting her tomorrow and Saturday. But today on Christmas I am with my dogs and my husband and his family feeling really grateful and happy. I'm wearing my Green Bay Packers footie pajamas, eating more cookies then should be physically possible to swallow.
Happy holidays to all and many blessings to you all!