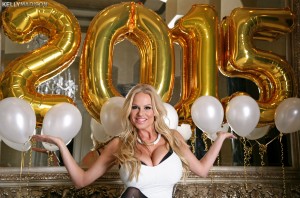 Do you fucking believe it is already Two Thousand and fifteen? That's my saying for the year. Where oh where has father time gone? Oh where oh where can he be? I celebrated Christmas with no sleep, drove to Vegas to be with my sister, came home and leased some way too expensive Macs for Ryan, bought him a new Escalade, handled all the end of the year finances, put a fucking pear up a partridge's ass, packed and came down to Mexico to shoot a PF scene and 3 KM's.
So here I am in Cabo, it is 80 degrees, all the work is done for the week and I am stuck inside the house with a blown out knee. That is what happens when you celebrate the last night of shooting and at 47 you go out dancing at clubs until 4AM and then eat street burgers and play cards with your husband and employees until 5AM. Oh this old gal is hurting. I just refuse to get old, so now I am paying for it. It isn't that bad of a situation, I'm here in a beautiful 11,000 square foot penthouse apartment overlooking the ocean and Ryan is watching football and I'm on the couch getting caught up on emails, texting, and blogging. So, no complaints here, life is good as long as I have wine and Advil!
My sister is doing OK for now, she is improving slightly but not enough to come home. I don't know where she will have to go next but I am ready and able to take care of her needs as soon as I return stateside. Her cancer is progressing at an alarming rate. Her large tumor was at 9mm in August and as of December 6, had grown to 43mm. This is my first experience with cancer so I still don't know what that truly means as far as life expectancy but her immobility is far more concerning to me at this point. So I am taking this time in Cabo to reflect on my blessings and what I need to do for her these coming months.
I did a bunch of shooting while here so I will post all the updates soon. Until then, I wanted to share some super exciting news – I have been inducted into the AVN Hall of Fame! Here is a link to the press release:
FOR IMMEDIATE RELEASE:
Superstar Kelly Madison Selected to
2015 AVN Hall of Fame Class
Multi Award-Winning Performer/Director & Owner of
Kelly Madison Media Will Be Inducted on January 24
During AVN Awards in Las Vegas!
LOS ANGELES (January 5, 2014) – Kelly Madison, superstar adult performer/director and owner of Kelly Madison Media, has been selected for AVN's 2015 Hall of Fame class. The official induction will take place on January 24 prior to the AVN Awards.
"It's an amazing honor to become a member of the AVN Hall of Fame," said Kelly Madison, who will be inducted into the Hall of Fame's Video Branch. "It's a reminder of the longevity I have been able to enjoy in a career I love so much."
"Thank you so much to everyone who has made this possible – AVN's staff and voters, all the wonderful people associated with Kelly Madison Media, our fans, and especially my amazing husband, Ryan!" added Kelly. "Besides being one of the top directors and performers in the industry, Ryan is my rock, so consider this the beginning of my campaigning for his Hall of Fame induction in 2016."
For the full list of AVN Hall of Fame Inductees, click here.
"I am so thankful to AVN and our colleagues in the industry and the fans who have supported Kelly and made her a superstar in more ways than one," said Kelly Madison Media co-owner Ryan Madison. "She wears many hats at Kelly Madison Media – performer, art director, producer, accountant, marketing whiz, and more – so I'm very pleased she is being recognized in such a major way for her accomplishments."
As head of one of adult entertainment's top known brands, Kelly Madison began her career as an adult model after leaving a successful career as a sales representative and vice president of a computer graphics firm. It was then she met Ryan Madison, a young graphic artist who she fell in love with. They quit their respective jobs and started KellyMadison.com, which earned Kelly the title of Best Female Web Star at the 2011 AVN Awards.
By capitalizing on her playful charm and business savvy, Kelly became one of the most financially successful independent web stars ever. The couple's success caught the attention of DVD distributor Juicy, which signed the couple to a deal to produce all-new content for distribution on DVD and other platforms under their brand, Kelly Madison Media, and its PornFidelity label. The expansion of their visibility helped the couple become a hit with even more consumers, who loved Kelly's bubbly personality, try-anything attitude, and incredible all natural 34FF chest – her trademark.
Since its inception 14 years ago, Kelly Madison Media has received scores of nominations and awards. This year alone, it has received 22 nominations for the 2015 AVN Awards, – including five nominations in Fan Awards categories. The independent, performer-owned company is nominated for Best Marketing Campaign – Company image – a first for Kelly Madison Media in a category mostly made up of industry's biggest producers.
In selecting Kelly Madison, AVN said: "[Kelly] originally planned to be the talent coordinator for the [online] content, but after unreliable and undependable girls answered their ads, the couple agreed Kelly should be the model. Now, almost 15 years later, the company runs several websites and produces videos on a monthly basis."
Voting for AVN's Fan Awards is open through January 23 at http://avnawards.avn.com/voting/.
The AVN Awards will be held at The Joint at Hard Rock Hotel & Casino Las Vegas on January 24, 2015 as part of the Adult Entertainment Expo, scheduled for January 21 to 24.
About Kelly Madison Media:
With a library of titles dating back nearly 15 years, PornFidelity and Kelly Madison Media are synonymous with high quality adult entertainment featuring the biggest names in the industry. Under the leadership of superstar performers Kelly Madison and Ryan Madison, PornFidelity and TeenFidelity have been consistently among fans' favorite studios featuring the real-life sexual adventures of Kelly and husband Ryan as they hook up with hot and horny young women. With her gorgeous face, Double-F breasts and up-for-anything attitude, Kelly and husband Ryan have created an empire that has continued to grow from a monthly release in the early days to today's multiple lines of MILF, Teens, fetish and other themes to a great online presence that is updated every single week with brand new content. PornFidelity.com and related sites include content of over 2,000 episodes with over 1,000 models, showcasing every ethnicity, size, shape, age, breast size, and personality. Each episode has behind the scenes photos and video footage, shot in HD 1080p and all new episodes in 4K, and all downloadable as well as offered in a variety of sizes and formats. The sexy and eclectic sites they produce is a true representation of their oath to "love, honor, cherish and fuck hot girls together for as long as we both shall live." For more information, visit http://www.PornfFdelity.com
About the AVN Awards:
The 32nd annual AVN Awards Show will be co-hosted by popular adult stars Alexis Texas and Tommy Pistol, both of whom won big at last year's show. Texas garnered a Fan Award for Hottest Ass while Pistol was named Best Actor for his turn in BurningAngel's "Evil Head." In addition to entertaining banter from the hosts, the AVN Awards Show also features equal servings of live comedy, music, and dance numbers – along with a red carpet pre-show which draws the biggest adult stars dressed in eye-popping, sexy ensembles. The AVN Awards Show is the culmination of AVN Week – a series of events produced by AVN Media Network at Hard Rock Hotel & Casino Las Vegas – and begins with Internext, followed by the AVN Novelty Expo and the AVN Adult Entertainment Expo, and culminates with the AVN Awards Show. For more information about the 2015 AVN Awards, visit www.AVNAwards.com.