Yep, headed for Vegas. Getting on a plane this morning and flying to Las Vegas to attend the AVN Awards show. I didn't go last year at all so I just couldn't pass up an opportunity to hang out with all my fellow porn peeps. I've really been tied down taking care of my doggy but Ryan is going to be a good doggy daddy for me and take care of the big guy so I can leave town for 24 hours. My office manager, hairstylist/assistant and my makeup girl all drove out last night so the dream team is picking me up today at the airport and doing their magic on me. I'm sure they were "good girls" and didn't party last night and are nice and refreshed for the day – yeah right!
I'll take some photos for you and post them here on Sunday. My company is nominated for 15 AVN awards. It really is just nice to be recognized and receive all those noms. Thanks AVN!
And don't forget to check out my new pics and video entitled "Dirty Girl". I'm a dirty dirty girl doing laundry. I really enjoyed the spin cycle!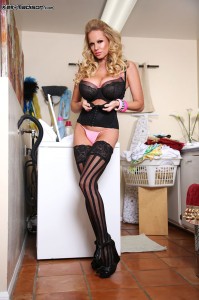 Kisses!