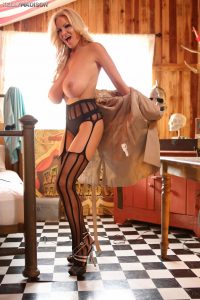 Happy Holidays Everyone! December has been full of surprises so far, and I have been getting some unexpected and unwanted gifts :/
A few weeks ago I had skin cancer removed from my face. I have long stayed out of the sun and the only time I am golden brown now is if I hit the spray tanner machine so I was a bit taken aback when the biopsy came back as Squamous cell carcinoma. I was going to wait until after the holidays to get it removed but the doctor had a last minute opening and I thought no biggie, it is just a little tiny spot on my jaw, how bad can it be? Well I had five stitches and nice big bandage on my face for a week and now I have a long scar and I'm not very thrilled about it. It curtailed my shooting the past few weeks but thank goodness we already had some in the can ready to go.
So with that said, I did some nasty flashing out in public with nothing on but some undies and stockings and a trench coat. Very fun indeed! I received a lot of attention that day. I had guys up on a rooftop doing construction that halted their work to take a gander at my giant breasts, some happy drivers on the road and a guy watering his lawn who took a few snapshots with his phone.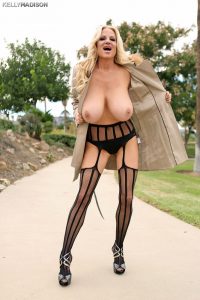 I also did a little sunbathing with the hubby out on the lawn. Sort of ironic that I did this shoot prior to the cancer diagnoses, all my younger years trying to get a "healthy" tan came back to bit me on the…face! Nevertheless, I had fun on a warm November day playing with the hose and that of my husband's.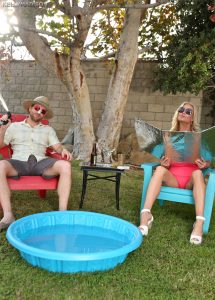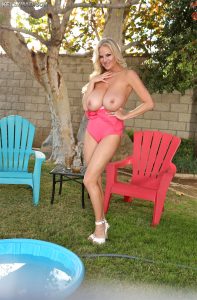 We also did a little tag team on the massage table. Ahhh, the beauty of youth and it's innocence.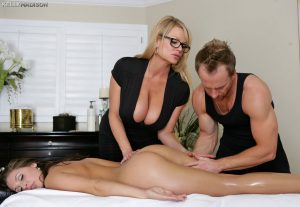 This week I brought you a treat from the past and did a little tree trimming with an exotic beauty.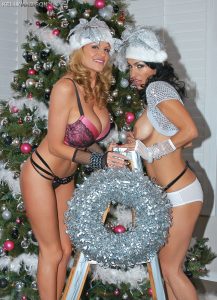 I should be all healed up soon and ready to give you some brand new content to enjoy. But remember, keep your sunscreen on your face and the lube on your hands!