I do believe I forgot to wish all of you out there a Happy St. Patty's day. My boy Tommy turned 4 on the March 17th. Isn't he a cutie?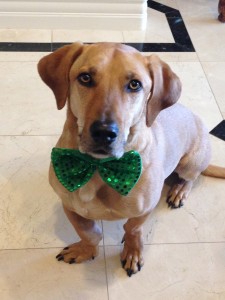 This is his Mom being a total slut whore in our doorway. He's used to it, very commonplace in this household.
By the way, that dress is green not blue so don't pinch me. I wore it out to an Irish tavern and then after drinking a few green beers I went home and celebrated my Irish heritage with a good old fashioned Irish fucking. I had come home from Vegas after taking care of my sister just in time to make Ryan some green eggs for breakfast. Don't worry, I won't post a photo of that. They tasted great but looked just awful. Ryan enjoyed them so that's all that matters.
You never know what you are going to find when you google yourself. I found some older photos and one from my shoot I did for Brazzers.com last year. I love doing glamour photo shoots but most of my fans like the more "realistic" looking me. I know my husband does. If he could just shoot all my photos with his iphone he would.
Driving around Malibu in that old Caddy was quite a thrill. I ended up taking my top off and sitting up on the back seat flashing all those driving, walking and biking on PCH. I'm really too old to be doing such silly irresponsible things but I just couldn't help myself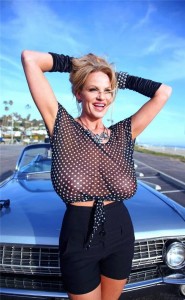 I also couldn't believe I let my hands and feet be tied up in last week's update on my site. By the end of the shoot my nylons were completely torn to shreds. Any takers out there? If you want them along with a signed Polaroid just email me at kelly@kellymadison.com. I made sure I wore panty hose for those leg fetish guys out there, this one was for you.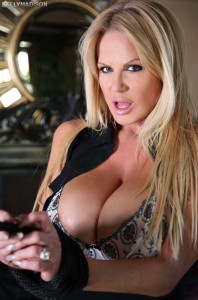 After finally getting loose we packed up and went to Hollywood. I got to shoot with Julia Ann this past Saturday. I just adore her and we haven't worked together in years. She was such a sport and walked around Hollywood during broad daylight with our big titties hanging out of our bras and big 'ol 7 inch platform shoes while everyone stared at us. I told her the trick is to not look anyone in the eye. That worked for a while but then we stopped and did some photos with some people and then went on our merry way and fucked the shit out my husband Ryan in the hotel room. All in a day's work…
You must check out the new update on pornfidelity.com with Julia Ann, she's awesome!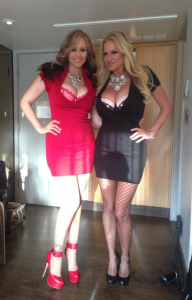 The next day we took it easy and Ryan and I ordered room service for breakfast, I threw on some tight jeans and a sweater with no bra and shot some content.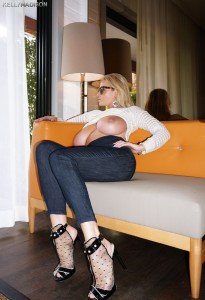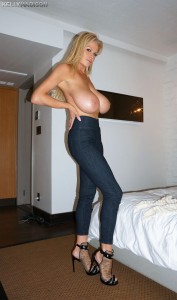 We had fun and went out on the town and came back and shot some more content got up the next day and did yet another shoot. Vacation Shmacation. Who needs rest? We can all rest when we die.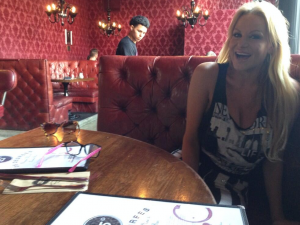 Anyways, doesn't look like I'm working that hard!