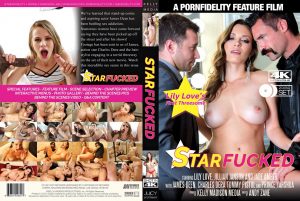 Another Great Feature from Andy Zane! I love how Andy and James Dean work so well together. Not to mention the always great acting skills of Tommy Pistol and the lovable Charles Dera, and the sexy Prince Yahshua.
The girls in the movie are the highlight, however. Jade Amber, Jillian Janson, Lilly Love all make StarFucked not only make it worth watching, but worth watching over and over and over again!
SPECIAL 2 DISC DVD SET!
Quick Overview
NEW Pornfidelity's StarFucked – 2 DISC DVD SET – We've learned that stand-up comic and aspiring actor James Deen has been battling sex addiction. Numerous women have come forward saying they have been picked up off the street and after his shows! Footage has been sent to us of James, action star Charles Dera and the hairstylist engaging in a torrid threeway on the set of their new movie. Watch this incredible sex scene in this issue of StarFucked
Watch Jade Amber's Trailer
Scene 1: Jade Amber / James Deen – All comedy comes from a place of honesty. James' bit about only fucking young chicks is nothing but honest. A comedian on the rise with a serious sex addiction, this can only end in laughs. Seeing Jade jogging on his way home, he has his driver stop and decides to take her home and fuck her brains out.
Watch Jillian Janson's Trailer
Scene 2: Jillian Janson / James Deen / Prince Yahshua – Bodyguard to the stars, Prince is escorting failing popstar Jillian through James' backyard to escape the paparazzi. After some shots, it's time to take this little freak upstairs and get the real party started. With one cock down her throat and the other pounding her young pussy she couldn't be happier until they shoot their loads all over her face and tits!
Watch Lily Love's Trailer
Scene 3: Lily Love / Tommy Pistol – With bills falling behind, Tommy is in a bad situation, but he comes up with a plan. Lily was recently shooting a movie with two very famous actors, and if she can seduce them on video, maybe they sell the sex tape! To celebrate this new ingenious idea, Lily gives Tommy the best sex he's ever had.
Watch Lily Love's Threesome Trailer
Scene 4: Lily Love / James Deen / Charles Dera – Lily and Tommy are ready to put their plan into action. When the movie crew goes on lunch, Lily sets up her camera and gets Charles just where she wants him. Right down her throat. But then James walks in and catches them in the act. Instead of abandoning the plan, Lily doubles down and takes on both of their cocks, getting them to fill her pussy up with cum!
Plus a second DVD with behind the scenes footage, special POV fluff cam, slide shows, Q & A and more…….
If you want to own a copy of it for your personal pleasure, just check out my store!