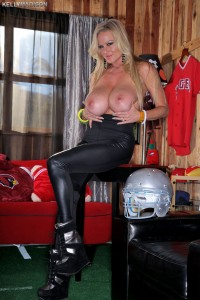 Football season is back and that means Sunday Funday around here as well as Ryan being fully engrossed in his 2 fantasy football teams. It isn't all fun and games though because I went out to Vegas last Friday to take my sister Cheryl to her new oncologist and the appointment went well and we both like and respect this new doctor but doing full cranial radiation is scaring the shit out of both of us. We didn't have time to worry about it much because we had to pack her and her dog up to come back to my house for the weekend. My other sister's daughter was also moving last weekend so I was the taxi driver for my two sisters and my dog and my sister's dog from Vegas to California on Saturday. I then loaned my sister Judi my truck to then continue down to Carlsbad to help my niece move while I worked, or should I say slaved, on putting on an end of the year combo birthday party at the office house. We had a great time at the party on Sunday and I'm glad my sister Cheryl was there to enjoy some fun in the sun at our pool party and hang out with all the crazy characters that work with me. We are all indeed super fucking crazy as hell.
The party was a total success and I cleaned up, packed my bags yet again, threw my two dogs and my sister's dog in the back of the caddy, and along with my two sisters headed back to Vegas Monday early evening. Oh yeah, I also packed Ryan's stuff because he flew out to Vegas Tuesday afternoon. I picked him up from the airport in Vegas and we put together custom labels for a box of cigars I ordered for his fantasy football party he was attending Tuesday night at our friend Rick's house. Geez, there was a lot going on so try to catch up. So I pick up Ryan, go over to our friend Ken and Serena's where then Ken and Ryan drove to Rick's while I visited with Serena. Come to find out she has a cousin who runs a website assisting patients with Cannabis treatment by the name of United Patients Group. Holy cow, I've been trying to find out about this Cannabis oil and where to get it since it was first suggested to me from Sandee and Jared several months ago. Well, Serena had all the info and I drove Ryan and I home on Wednesday, got my medical marijuana card, met up with the distributor of the oil and got it to my sister as of 8PM last night. I have learned more about CBD's and THC in the last two days. I think I am at the biochemist status at this point. So here I am with the medical marijuana card and I don't even smoke it!
You would think after all that going on last week I would be ready for bed, quite the contrary, we did 2 shoots this week and tomorrow we leave for a local Indian casino to celebrate Ryan's Grandmother's birthday and we may just stay an extra day to get a little porn shooting in. It can't be all play and no work.