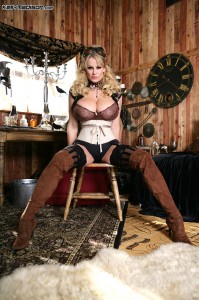 Hey guys, I was llive on the xxxpornstarradio.com this week. It was really fun. Of course I was stuck at the vet with the dog on Tuesday so I had to call in from the car, I really wanted to call in from home so I could be naked! Oh well, next time maybe…
I just put on kellymadison.com my newest video entitled "Off the Rails". It is a steampunk style video and Ryan plays the evil Victor Van Madison and trust, me he is off the rails. While filming down at the train tracks I dared him to jump on a fast moving train and he fucking did it! He jumped on the train and rode it quite a ways and then finally jumped off. The train was going pretty fast so I thought I might have to drive to the next county or state to pick him up once the train slowed down but the crazy guy jumped back off. The video turned out great and Ryan is alive to shoot yet another scene!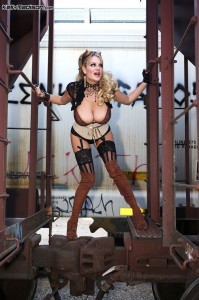 I'm on my way to Las Vegas for my sister's surprise birthday party. I packed up my sick dogs and all their shit and I'm off. I swear I have more medicine and special dog food and dog beds and crap jammed in my car. Meanwhile I have one tiny little bag. I am so low maintenance, my dogs on the other hand, are, uh, a handful!
I have been slaving away on my website. I have gone through over 600 episodes to organize and re-master the videos in order to finish my new member's section. I have over 950 updates on my website to go through. Each photo and story and video all has to be organized and re-numbered and in a lot of cases re-edited to a newer format so it is just taking forever! I promise it will be done soon. I am so sick of looking at myself I could gouge my eyes out. I just still can't get over how much bigger my breasts have gotten since I started my website back in 2000. Crazy.
Well, I'm outta here. Kisses to all and to all a great weekend!