I am feeling a bit blue today. Maybe not in mood but in dress!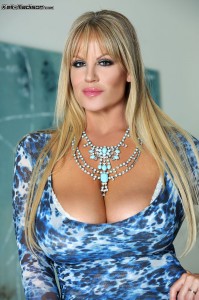 I wish everyone well this Sunday. I had a a very busy week, but then again that is nothing new. I took Tommy and Trey to a Dermatologist on Tuesday and finally got something to heal up Trey's radiation burn that still wasn't healed since the end of December and found out that Tommy may have discoid lupus but it is inconclusive until we do a biopsy on his nose – OUCH! With that said, I had a lot of work to do on a new company I am working on and setting up for 3 production shoots this week. I also bought a new computer, a new iphone, a new ipad and took my old imac in for repair so lots of new technology and change has gone on this week and I'm still trying to get used to it all. I hate change. I would still be using my old computer and software from 14 years ago if my husband didn't kick me in the ass every few years and force me to upgrade. I am soooo not cutting edge. I'm more like a butter knife : )
Today we are shooting a teenfidelity.com scene. We don't usually work on Sundays but our lovely model had to cancel Thursday and re-schedule so now here we all are working today on set. Even my office manager came in to do some accounting work. I am going to finish up here early and take the dogs to go get mani pedis and then work on the computer some more. I think I need a day off soon, Mother's day was fine last week but it was effort and travel and yes indeed fun but it's not like staying at home and relaxing. I haven't spent a day at home just chillin' in so long I can't remember. One thing about having your own business or in my case businesses is that there is ALWAYS something to do. I feel guilty if I'm not getting my tasks accomplished so even resting sort of gives me guilt. I know a lot of you out there are like me. It seems with the more technology there is in the world the more it creates opportunities to be productive at all times and down time just isn't in the program.