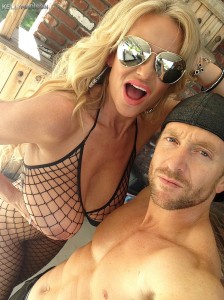 Wow, both Ryan and I got nominated! It's been an even greater than usual few days for Ryan and myself who earned a cart-full of nominations for the 2014 XBIZ Awards and the 2014 AVN Awards fan voting categories. We are so super excited, Ryan is beyond thrilled, don't judge him by that photo, that's his "serious" face. Ha!
The AVN Awards fan voting categories were announced on Friday and we received several great noms. Ryan is up for Favorite Male Porn Star, I'm up for Hottest MILF and Best Boobs, and we even scored a nom for Best Studio!
Please click here and vote once daily. Let's see if this little Mom and Pop Porn business can win some awards with your help.
Love you guys and thanks for all the love and support. I know I say it a lot but I MEAN it a lot!!!!! Woo hoo!
P.S. I needed some good news and some great shit to be happy about, sis is doing better but it is so rough. I just got back Monday and I have to leave again next week.