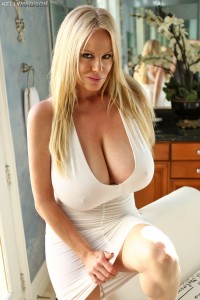 I have spent a few days in San Diego County and loving every minute of it. Ryan and I took the doggies with us down to Rancho Santa Fe for a few days at a beautiful boutique hotel that allowed dogs which is always a plus, I hate having to sneak the little guys in : )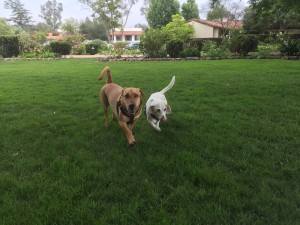 Actually the old days of sneaking dogs into hotel rooms is long gone. There are so many 4 star hotels that allow pets it makes it so much easier to travel with my hairy babies. This place was pristine. The weather was nice, the staff was great and the rooms were beautiful. I say "rooms" because we checked in on Sunday and checked out on Tuesday and went to lunch after packing up the car and decided we just couldn't leave. So we checked back in, unloaded the car and stayed another night and it was so worth it. We had an even better suite and had a large patio all to ourselves. We drank some wine and played with the dogs and just relaxed. We finally drove home Wednesday morning and got back in the grind but not without some new content for my website. You know that even on my birthday getaway I can't resist filming a few scenes for my fans. I love it.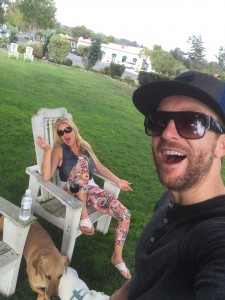 I had only a few days home before leaving again with my sister down to Oceanside early Friday morning. I barely unpacked before packing again and heading down to see my niece. Our hotel room had a beautiful ocean view, and best of all, AC that worked awesome. It was unusually hot for the beach and our room was super chill just how I like it. Everything went great down south and we spent one day at the beach with the kids. The tide was really strong so my sister and my niece and myself were on heavy life guard duty since we were there with a 4 year old and 7 year old. When I wasn't on duty I had a few hours of just playing in the surf with my sister and caught some good boogie board rides since the waves were really big.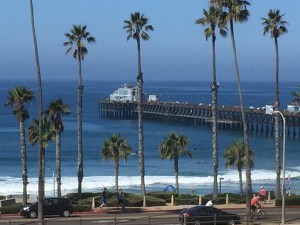 My sister and I returned back to my home Sunday afternoon and we cooked dinner, watched some TV and passed out. Neither one of us have played in the surf all day long in years so we were pretty tuckered out. She unfortunately left too soon and drove back to Vegas early on Monday. I was gearing up to packing for my 3rd trip when my friend and I decided to postpone me going to Oregon until later in October and it was a good thing because by Wednesday I was sick as a dog. Funny how things worked out that way. I would hate to be out of town and feeling as poorly as I did. I went to see the doctor and now I am feeling much better. I tried doing it the holistic way and then after a few days of misery I finally broke down and got some antibiotics which I only use as a last ditch effort. I think our society has completely over used antibiotics causing major problems and leading to the ineffectiveness of those drugs.
Now I am well into my recovery and even had a nice belated birthday get together with Ryan's family yesterday. I am truly fortunate to have in-laws that I adore. Ryan's Grandmother is simply adorable. At 84 she has her own iMac, iPad, iPhone and knows how to use Uber. She's also a very snappy dresser and is so fun to be around. I hope I'm that youthful and exuberant when I am her age, I hope to reach her age!
So today is Labor Day. All the employees have a paid holiday and Ryan is working tirelessly editing and such in the office by himself and I am at home catching up on work and writing my blog and even though we aren't at a picnic or at the beach, I feel grateful to have the freedom we do have with our business and working on everyone else's day off is no big deal at all. It doesn't feel like work when you are doing what you love and no one is telling you that you have to work. So I hope everyone is having a great day whether you are at play or at work. Be safe and if you have a little time on your hands, be sure and check out out my new updates on kellymadison.com.